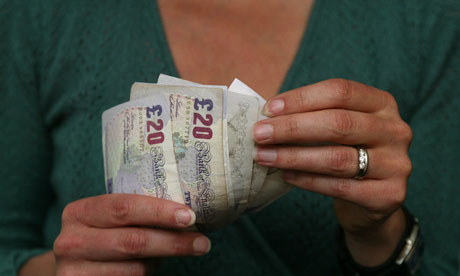 When I talk about money my voice gets higher. Occasionally I'll try and stand back from the conversation, see if we sound like students speaking through fascinators of weed smoke, destroyed by the notion that cash is, like, just a promise, passed from pocket to pocket. Occasionally I'll try to stand deep within it and read the spaces between the words. More often I just stop mid-sentence. It's hard.
Money is hard. It confuses and depresses and pulls us backwards on a Megabus to our old bedroom at our mum's house in a town we thought we'd left forever. We're encouraged to learn how to control our money, but so often it feels impossible. Today, more than ever, when we talk about money we're talking about anxiety and failure, and fear. I realised recently how money, for me, is security. So I save in a way my friends don't – if I teeter on the edge of overdraft I panic. For many people I know, saving is a privilege – they live hand to mouth (hence some of the problems with housing associations' shift to direct payments), while I, in part because numbers baffle me so profoundly, treat it as an electric blanket. A padlock. Something to help me sleep soundly, keep me safe. But none of us, with our bulimic wallets, is totally relaxed. More than half of us in our late 20s and early 30s (according to a new survey about consumer trends by Axa) blame our parents for not equipping us to deal with finances. I'd question this, loudly.
How could our parents have taught us how to manage our money, when the money of their youth is a different shape to the money of ours? The two are only distantly related – they don't speak to each other. Our money is the stepsister of their money's son's cousin. Theirs was big and shiny, money in the time of brand-new teenagers, of jobs for life. Theirs was accruing interest while they lived at home, moving out only when they married, into houses that turned to gold beneath their feet. And their parents, still insecure postwar, never spending more than they had, were literally rebuilding their cities, compared with us, encouraged to rebuild our kitchens every 18 months. Our parents, now grandparents, didn't realise they'd be expected to work through their 60s and 70s, both in banks and as babysitters.
Our money is often a mirage. Our money is a plastic card with a print of a koala on it. And it lives in a state of perpetual arousal – adverts seduce us constantly. I looked at the Made.com sale last year: now when I read the Guardian online, the sofas I never bought flicker by. I sent an email referring to season two of Louie, and now adverts for Netflix frame my inbox. To resist is an active state.
And unlike 50 years ago, there is no shame in being in debt. We start our adult life that way – students who started university last year are expected to owe £53,400 by the time they graduate. The dream, in fact, is to win a bigger debt, a mortgage, a prize that none of my friends can even conceive of. All their money is swallowed by rent, so they have no choice but to live in debt. The Axa survey says one in four Britons feels forced to make "major lifestyle changes" this year, such as forgoing holidays, due to financial pressures. But it's bigger than this: it's not lifestyle, it's LIFE – it's writing off the idea of having children, it's staying in an abusive relationship because there's nowhere else to go.
As our earnings drop (the average income of middle-class households has fallen by almost 9% since the start of the recession), how can we help ourselves? After campaigning by the founder of MoneySavingExpert.com, the new-draft national curriculum will see financial skills taught with maths. Will this change how we deal with debt? With benefit cuts? And how much power do we really have? I have a flash of driving in an AA instructor's car, knowing that at any point he'll put his foot down on the hidden clutch. Even if I'm driving, it's just an illusion of control
.
.